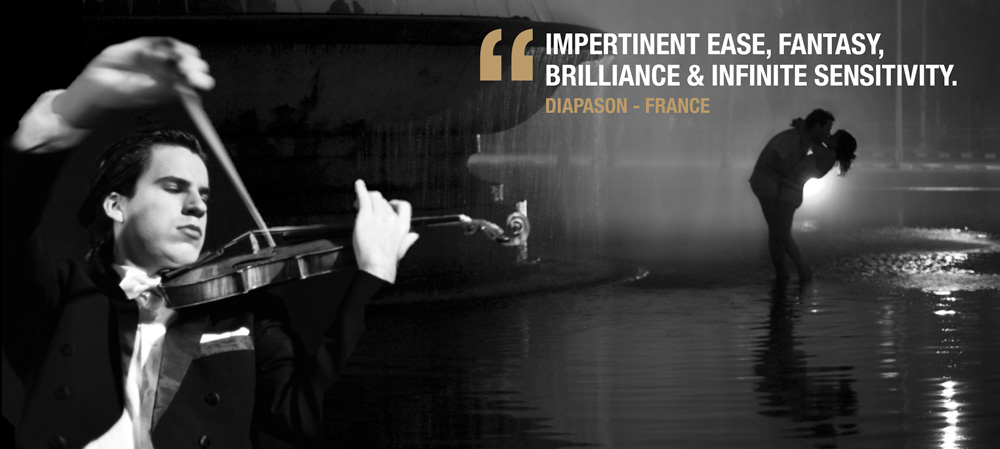 In an evening sparkling with anecdotes and steeped in history, Daniel Röhn masterfully summons up the "Golden Age of the Violin" of the 1920s and 30s.
The Kreisler story traces the life and legacy of legendary violinist Fritz Kreisler. In tune with his time and the audiences who came to hear his concerts, Kreisler laid the foundations for a new genre in violin playing distinctive for its charming, melodious qualities and extreme virtuosity.
A talented composer, he wrote much of his own material, often disguising the works with imaginative pseudonyms which alluded to the venerated origins of famous Italian composers. By keeping the pieces short, (rarely longer than three minutes) he perfected a format that perfectly suited the recording technology of the time. These pieces were "hits"— instrumental counterparts to the arias of Enrico Caruso, unique in their scope, virtuosity, and appeal. For fans of classical music, Kreisler embodied both the tradition and the future of his instrument.
With Daniel Röhn as our guide, we are ushered into the salons of the 1920s, where he introduces us to colourful and adventurous characters and stories which accompany an atmospheric musical journey through old Vienna, vibrant New York and Berlin of the roaring twenties.
"The Kreisler Story" has been received to enthusiastic acclaim at Carnegie Hall New York, Konzerthaus Berlin, Laeiszhalle Hamburg, Wigmore Hall London, and Verbrugghen Hall Sydney to name but a few. The Kreisler Story CD (EDEL/Berlin Classics) was released in August 2016 and has received rave reviews in BBC Magazine, Gramophone Magazine, the London Daily Telegraph and The Guardian, Süddeutsche Zeitung and Forno Forum among others!
Technical wizardry, melting musicality, old-world style and panache.....woven seamlessly together into an utterly perfect evening
Carnegie Hall,
NY Concert Review
A sensational player, as technically mellifluous as he is interpretively beguiling
THE STRAD, London
If every performer communicated as well, as part virtuoso and part inspired educator, more concert halls would be packed – and his certainly was
Carnegie Hall,
NY Concert Review